Diese Veranstaltung hat bereits stattgefunden.
Das Große Rauschen: The Metamorphosis of Radio
Veranstaltung Navigation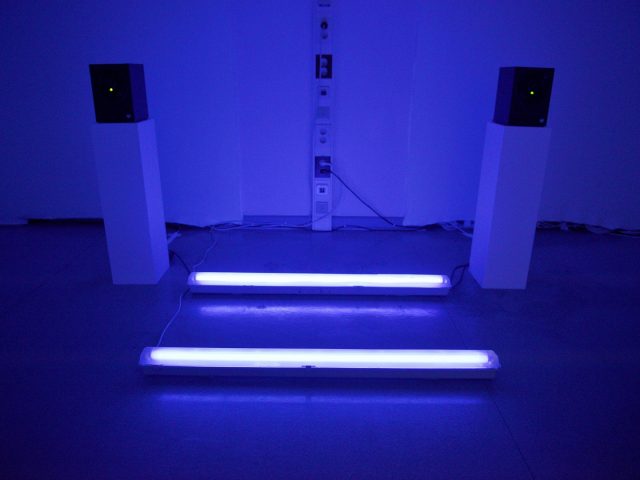 Photo: Marcus-Andreas Mohr
12:00 – 20:00
Admission: free
Curated by Anna Friz
The exhibition features international artists working on the cutting edge of art with a trailing edge technology: radio and wireless transmission. What other possibilities might exist for radio in the popular imagination, what significance might radio have outside of it's usual functions of broadcasting information and entertainment?

Artists working with radio have consistently sought to re-imagine the medium itself: to subvert the standardized and institutional approaches to broadcasting, to challenge ownership (state or corporate) of the airwaves, to rethink what counts as transmission infrastructure by pulling radio out of the studio and into new spaces for public actions, installations, performances, infiltrations, and interferences. In addition to sampling and transforming broadcast radio content or formats, artists are also undertaking experiments which engage the electro-magnetic spectrum, whether through micro-transmission, building unique antennas and receivers, and playing the electro-magnetic waves themselves as sculptural or performance material.

Together the works featured in »Das Große Rauschen: The Metamorphosis of Radio« consider radio frequencies as forming ecologies of communications and transmission activity, with the potential to sonically and electromagnetically overlap and physically interrelate with one another as well as with visitors. From re-purposing razor security wire as an antenna for micro-broadcast, to sculptural pieces involving many small radio receivers and transmitters in multi-channel sound sculptures, to examinations of radio silence, the exhibition finds new ways to engage and usurp our expectations of the limits of radio.

Works presented by Steve Bates, DinahBird & Jean-Philippe Renoult, Fernando Godoy M & Rodrigo Ríos Zunino, Golo Föllmer, Gabi Schaffner, Jeff Kolar, Emmanuel Madan, Sally Ann McIntyre, Kristen Roos and Maia Urstad.
Radio Revolten Central
Rathausstraße 4
Halle (Saale)
,
06108
Deutschland