Diese Veranstaltung hat bereits stattgefunden.
Workshop: Hand Made Radio Art
Veranstaltung Navigation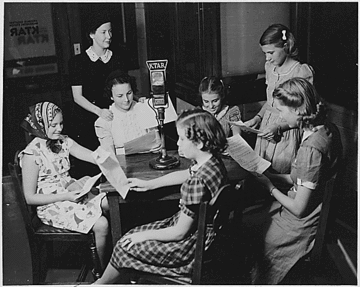 Photo: Franklin D. Roosevelt Presidential Library and Museum [Public domain], via Wikimedia Commons
Artists:
with Alessandro Bosetti and Anne-Laure Pigache
in the Radio Revolten Zentrale
Admission: free
Number of participants: max. 12
Language: english (german)
Registration until 19th October under info@radiorevolten.net
also on 22nd and 23rd October 10 a.m. til 6 p.m.
Imagine going back to the first days of radio when tape splicing and editing as well as sound effects and sound processing where not available. Imagine a time when everything was mono and all actors, noisemakers, foley artists and speakers would gather in front of a single microphone to broadcast in real time. Imagine a sound art piece, a noise composition, a radio play, a radio documentary where all sounds are exclusively derived from the human voice.
While going back to those early times, we are traveling from the future and we are bringing with us all the ideas and aesthetic worlds that new technologies have inplanted in us. How can we reinvent the possibilities given us by technology ?
Sound artist Alessandro Bosetti and vocalist Anne-Laure Pigache will guide you in producing a complete piece for radio using just one single microphone, your mouth and your ears.
We will travel back in time bringing with us all the new aesthetics and ideas that technology has given us and we will start considering how to re-produce the same effects and results without the use of a computer and with as little technology as possible. How can we reproduce noises with no tape machine at hand ? How can we reproduce a space or sound landscape without any delay or sound effect? How can we organize a complex dramaturgy without the option of cutting tape or sound files?
Live presentation on the 23rd October, 8 p.m. in the Radio Revolten Klub.
Radio Revolten Central
Rathausstraße 4
Halle (Saale)
,
06108
Deutschland