Okt 9, 0:20 / respectively 9th 14:34
Ah, the feeling of parties that have halfway disappeared already into the darker recesses of the brain leaving a memory of a sound collage whose elements are no longer discernible. There was people, music, smiles, talks, smoking, drinking, sleep  and a very very slow waking up from it after a seemingly happy unconsciousness.
What I remember very distinctly though was the Werkleitz "audio visual performance" at the Moritzkirche before the Revolten Club party with performing DJ Mila – and my talk with the Viennese artist Tamara Wilhelm about it in the garden.
The Werkleitz event was staged parallel to the Radio Revolten and indeed it presented a parallel attitude towards the distribution and sharing of music and art.
We both agreed on very mixed feelings. Needless to say the music had its good moments, especially towards the end of the show… but what remained to ponder on was:
– the puppet dance
– the obstinate silence after the music had ended plus one person openly standing up and booing
– the visuals generally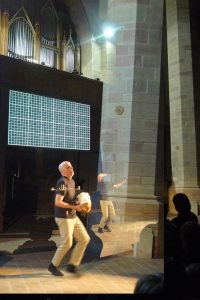 All information about the Transposition project can be accessed on https://werkleitz.de/audiovisuelle-performance. There are many remarkable historically and scientifically interesting features to it, including communication with the dead,
but read for yourself.
My impression was that is is somewhat problematic to present a child-size puppet (even if it is double-headed as in this case and signifying the merged compositional identities of honorable Bach and Händel) in a church. The character dance performance by Leif Elggren recalled sufferings of the psyche among other things…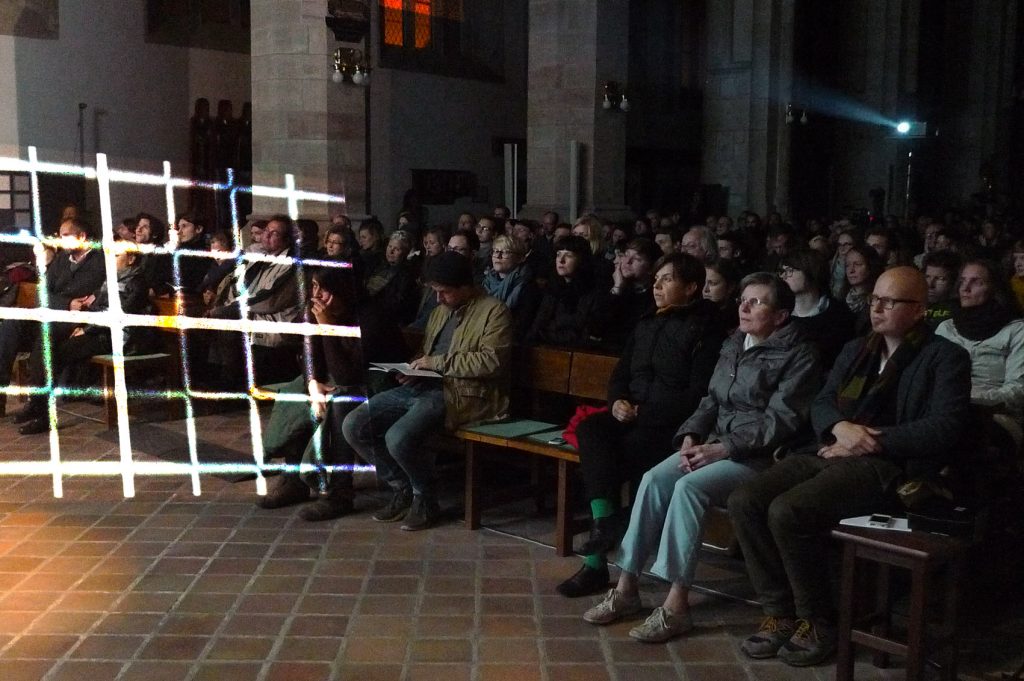 The expressionist choreography evidently caused an slightly old fashioned/disturbing/out of place element/feeling in the audience. All in all the whole staging was very much "from those above to those below".  The musicians were – except for the backs of their heads – invisible up on the galery in front of the organ,  the screen hanging from it featured projections of Hampus Lindwall (in the first four minutes), a grid of lines first black on white then white on black, zooming in and out in an exemplification of consciousness (didn't see them in my dreams tonight), and the  figure of the performer, like a beautiful white-and-gray withering flower flipped into the horizontal.
What made us ponder finally was the difference in atmospheres between the Revolten Central and the church. I asked myself (idly, i know) whether this performance couldn't also have happened at the Rathausstraße. With the musicians fully visible and on the same level as the audience, both projection and dance performance in a more worldly context. The high gloss brochure handed out to the audience explains that the composer /organist was decided to perform the piece in the Moritzkirche as this church alone has the 1925 built Sauer organ that produces the sound spectrum needed to reach the full impact and beauty of the composition. Be it that way.