Diese Veranstaltung hat bereits stattgefunden.
SWEET TRIBOLOGY (Julia Drouhin)
Veranstaltung Navigation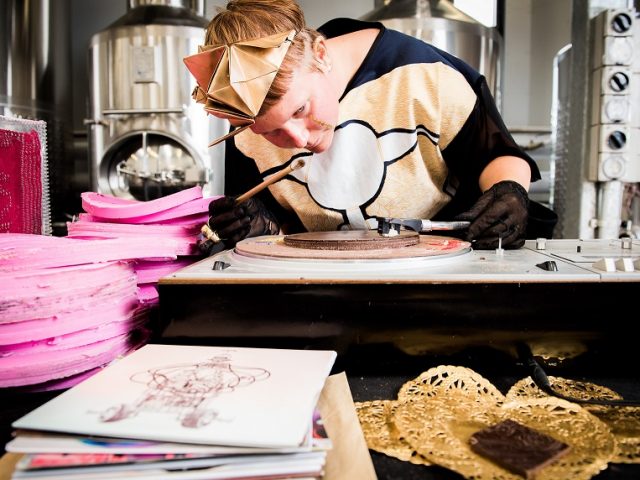 Artists:
SWEET TRIBOLOGY is a radiophonic picnic by 40 women artists interpreting old wax cylinders on chocolate records. It explores de/re-generation process, as well ways of sharing music and interacting in public space. SWEET TRIBOLOGY generates friction between past & present, audio & visual, original & copy, hard & soft, permanent & ephemeral, ear & gut, documentation & art, dead air & live music.
Original works by Camille Antoine, Felicia Atkinson, Frieda Beukenkamp, Dinah Bird, Maya Boquet, Emma Bugg, Tania Buisse, Selena De Carvalho, Andrea Cohen, Lou Conboy, Kate Geck, Emmanuelle Gibello, Rosalind Hall, Hanna Hartman, Carola Haupt, Julie Honoré, Cat Hope, Alice Hui-Sheng Chang, Zoe Irvine, Anne Laplantine, Sally Ann McIntyre, Mish Meijers, Coraline Janvier, Shannon Johnson, Miss Despoinas, Rosa Menkman, Edith Perrenot, Sally Rees, Eve Risser, Elissa Ritson, Anne-Laure Robin, Maria Papadomanolaki, Nadège Philippe-Janon, Sabio, Pip Stafford, Rachel Tribout, Maia Urstad, Valérie Vivancos, Tricky Walsh, Sarah Washington.
Stadtgottesacker
Gottesackerstr. 7
Halle (Saale)
,
06108
Deutschland